Cagayan Valley

Cagayan Valley is region II. It is a wide valley in the northeastern part of Luzon and irrigated with the waters from Cagayan river-the longest river in the country. During the early times, the valley is believed to be dominated by the elephants and other animals that are already extinct in the Philippines. Fossils displayed in the National Museum includes bones and skeletons of prehistoric animals. Recent archeological finds revealed that it is in Cagayan that the earliest human appeared which dates back as far as 22, 000 years old. Cagayan valley is composed of the provinces of Batanes, Cagayan, Isabela, Nueva Viscaya, and Quirino.

Batanes
The Ivatans are the people living in Batanes group of islands. They are often visited by typhoons. This is the reason why they learned to adapt to the frequent weather disturbances as manifested in their stones made of limestone. Most of the Ivatans are farmers and fishermen. They plant garlic and hard livestock such such as cows. The Ivatan women wear a headgear called Vakul. It is a clothing to protect them from the heat of the sun and during the rainy season. This special clothing is woven from abaca fiber or the vuyavuy palm-a plant similar to coconut.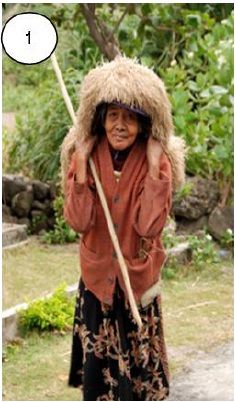 An Ivatan woman wearing a vakul
Ivatan house
Thank you for reading and commenting...