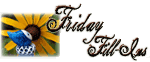 Hope you had a very Merry Christmas if you celebrate that...and a happy Boxing day to those that celebrate that! And...here we go!
1. They've
advised me to see and visit my dentist.
2.
I will be
going
to my dentist for tooth extraction today
.
3. What is
the feeling during extraction
?
Can't figure it out
.
4.
It helps me relax and soothe when I watch my favorite TV
shows.
5. Eyes
are so tired of staying up late at night.
6.
I have not started yet my school paper works
ut oh but, will try my very best to work on it.
7. And as for the weekend, tonight I'm looking forward to
finish my back log task
, tomorrow my plans include
cleaning the house and shopping and Sunday
, I want to
celebrate my new year's eve at my parents house!
Thank you for reading and commenting...