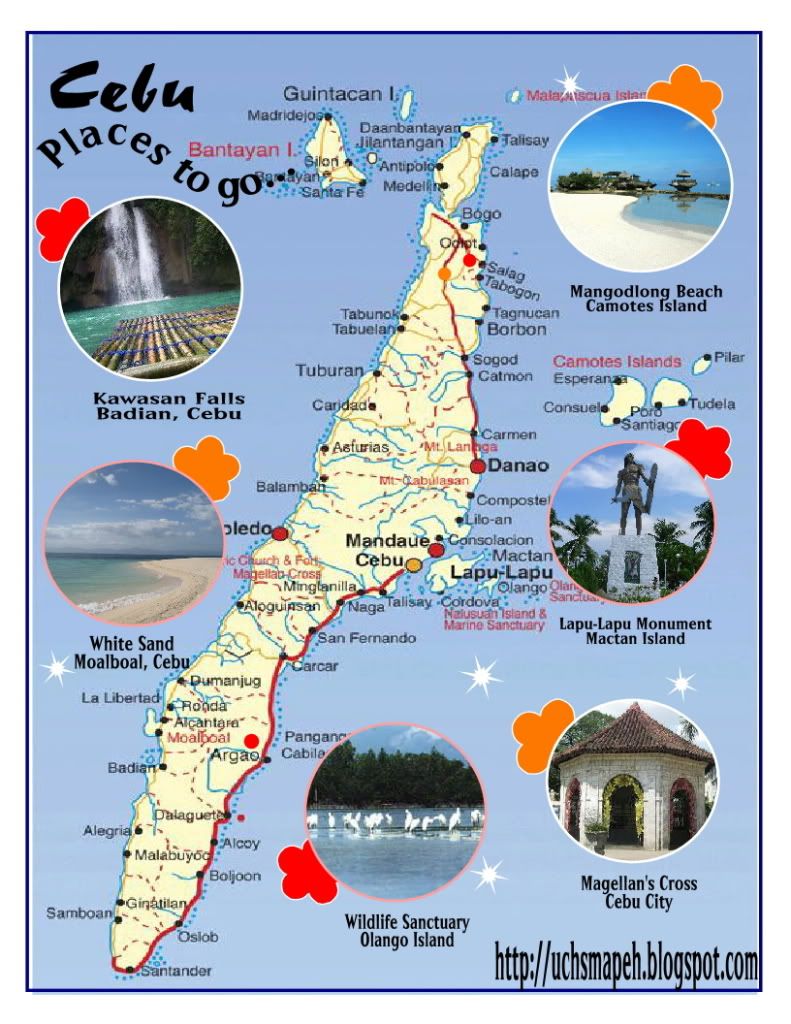 A tropical island of sugar-white beaches and swaying palms, Cebu shines throughout the year with its signature warmth and hospitality, vibrant people and extraordinarily pulsating life.
Located right at the
heart of the Philippine archipelago
, Cebu is the commercial and business hub in the south. It is also the favourite shopping and recreation destination of the nearby cities of visayas and Mindanao. Teeming with a number of world-class resorts and hotels, Cebu is an idyllic getaway for those who are tired of the hustle of the city life.
Places that I love to go...
Mactan Island
A coral island and famous for scuba diving where beach resorts of international standards are located.
Moalboal
Famous for beautiful corals and reef, white sandy beaches. A popular diving destination.
Badian Island
White sand beaches and crystal clear waters. The west coast is ideal for swimming and snorkelling. A walk or tour on the whole island can be done for about two hours.
Camotes Island
The Island is located at the northeast of Cebu. To cross the island, one has to go to Danao City, an hour away from Cebu city or take a fast ferry. Travel to and from the island is around 2 hours.
Kawasan Falls
Located in Badian, one can feel the coolness of the surrounding lush greenery of these panoramic waterfalls.
Olango Wildlife Sanctuary
Olango Island supports the largest concentration of migratory birds found so far in the country. These birds fly as far as to Australia and New Zealand from late July until late November. By late February until May. The birds return to their breeding grounds in the reverse Northward Migration. These birds use olango as a major refuelling station as well as a wintering ground.
.
Thank you for reading and commenting...